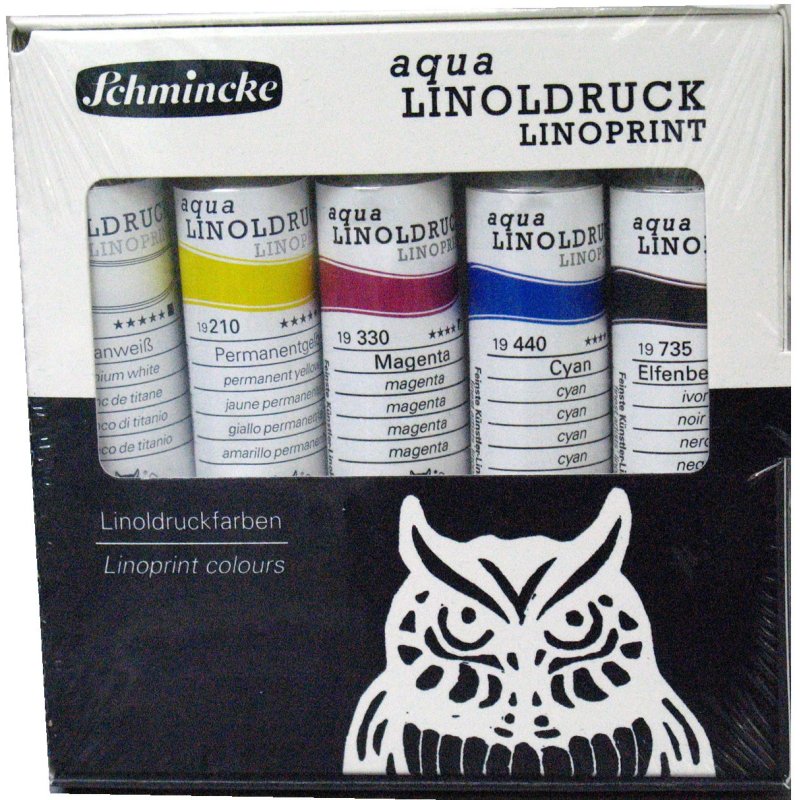  
Schmincke Aqua Linoprint set of 5 x 20ml
Water based, low odour, inter-mixable, artist' quality printing colour which can easily be applied on different surfaces such as paper, felt, cardboard  wood engraving and printing with various materials including classic lino.
Security policy
Delivery policy
Return policy
The water-based, high-quality aqua-LINOPRINT colours contain natural binders such as gum Arabic as well as organic/inorganic pigments. They are easy to apply due to optimum open-times and result in even, sharp prints with fast drying times (wipe-resistant after approx. 15 minutes).
Instructions from Schmincke on using this product
To produce perfect prints it is important to apply the colour very evenly.
You press Schmincke lino-print colour out of the tube on a glass sheet or an even, non-absorbent board and smooth it out on the glass sheet with a printing roller (small gum roller) by crosswise frequent rolling. 
The roll, which is now completely covered with lino-print colour, should strike crosswise over the relief plate and transfer colour from the glass sheet to the relief plate until the whole relief plate is evenly covered with colour. Now you apply the paper and rub it firmly with the rubbing tool as the colour needs some time to be absorbed by the paper. 
Best choice for this is thin Japanese paper, thick paper has to be moistened between blotting paper before the work starts. After removing the paper from the relief plate the colour should appear evenly also when the light is shining through.
Thick colour layers look clumsy and dull. 
If the colour has become dry on the glass sheet, you may add a few drops of water and roll the colour evenly to get it again ready for use.
If, however, you want to achieve some special uneven effects, you should use a short-haired brush instead of a roll.
The different character of the single colours will appear when the light shines through.
The colours allow different effects if you combine the partly opaque, half-opaque or transparent of these 15 shades + 3 effect colours with each other or with the 3 special Lino-mediums.
The finished prints should dry slowly to avoid any stretching or blistering (do not put on a radiator).
No customer reviews for the moment.