FREE Delivery on UK orders over £40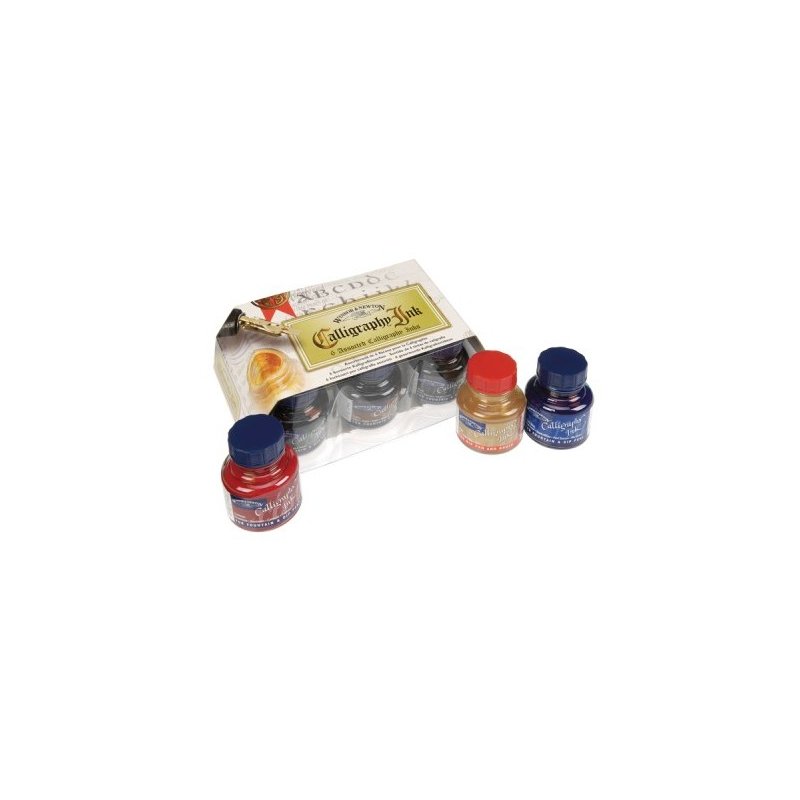  
Calligraphy Ink set of 6 x 30ml
Crimson, blue, green, black, sepia and gold make up the set of fine calligraphy inks from Winsor and Nerwton. The set offers excellent value for money and is ideal as a starter pack.
Winsor & Newton have used their expertise in the production of fine inks since the 1890s to create a range of 18 colours which are brilliant and lightfast, so today's calligraphers can continue to create this important and flourishing art form.
Wide Colour Range
Winsor & Newton Calligraphy Inks offer the widest colour range available for use with a Dip pen or Fountain pen. 
The range consists of 18 colours, 14 vibrant colours covering the colour spectrum and 4 extra colours - Matt Black, White, Gold and Silver.  All colours are available in 30ml bottles.
All the inks have been formulated with carefully chosen pigments to ensure maximum brilliance of colour.  Single pigments have been used wherever possible to make clean colour mixtures.
14 of the colours (blue capped bottles) are suitable for use with a dip pen, fountain pen, technical pen and airbrush.  These colours are fully intermixable. 4 of the colours (red capped) are suitable for Dip pen and brush (including mixtures using these colours).  These colours are opaque.  Black and white are Matt.
Winsor & Newton continually strive to provide artists with the most permanent colours, actually becoming the first company to publish the composition and permanence of their colours in 1892.  Winsor & Newton Calligraphy Inks have been formulated to provide the artist with an unrivalled level of permanence and quality.  All the Calligraphy Ink colours have a permanence rating of AA or A. 
Non Waterproof (improved flow)
The formulations of the Inks are non waterproof ensuring they are non clogging and have good flow characteristics when used in a Fountain or Dip pen.
The 14 blue capped bottles are suitable for use with a Dip Pen, Fountain pen, Technical pen and airbrush. The remaining 4 opaque colours (red caps) are suitable for dip pen and brush.  
Brushes for use with Calligraphy Inks
There are a multitude of brushes on the market, and choosing the right one can be daunting. All water colour brushes can be used with Inks 
Paper for Calligraphy Inks
For practice work with Calligraphy Inks, layout paper is recommended. For finished pieces, any paper that will not feather, bleed, scratch or wrinkle is suitable. Smooth cartridge paper or hot pressed water colour paper will allow a pen or brush to move evenly and smoothly over the surface with minimum breakage.  However, rough surface papers will also give a broken effect and ragged edge to the pen or brush stroke which may be desired by some Calligraphers.  



No customer reviews for the moment.
Your review appreciation cannot be sent
Are you sure that you want to report this comment?
Your report has been submitted and will be considered by a moderator.
Your report cannot be sent
Your comment has been submitted and will be available once approved by a moderator.
Your review cannot be sent