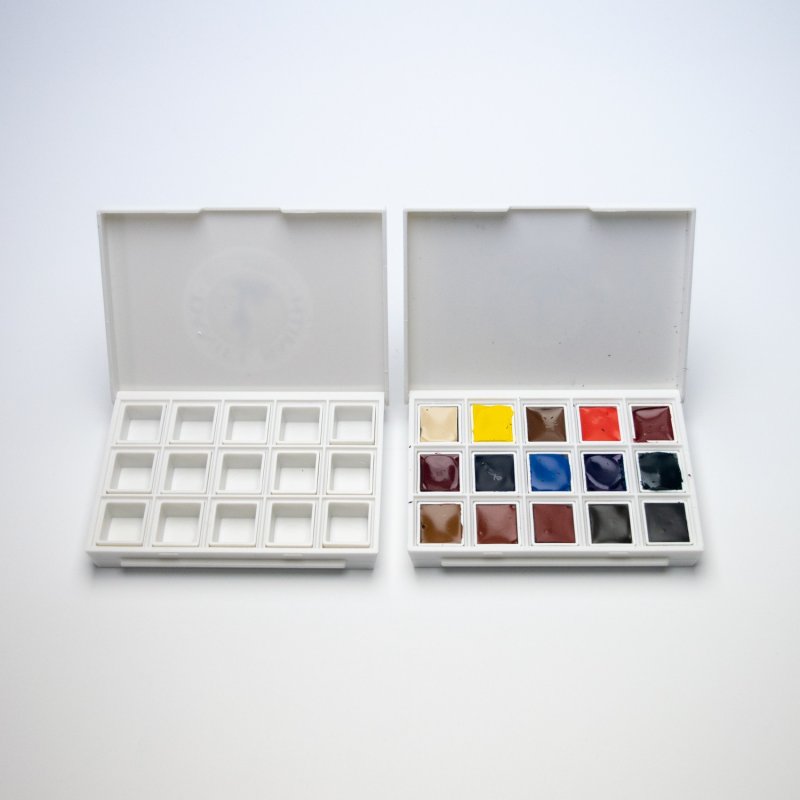  
Daniel Smith Ultimate mixing set of 15 half pans
Hand poured, finest quality half pan paints presented in a travel case and including 15 empty holders for you to add your own palette in a separate case
This is a unique concept in watercolour travel sets. Daniel Smith not only provide you with a set of core colours but you can also add your own preferred palette colours from Daniel Smith tubes simply by squeezing out some colour and allowing it to dry. This represents a huge saving from having to purchase colours that you already have in half pans as well.
Following in the Daniel Smith tradition of manufacturing the finest handcrafted paints and products, these half pans are hand poured. In order that the paint is even throughout up to 4 pourings are needed per colour with drying times of days to weeks in between. This is why the pans do not appear exactly even - as compared with lesser paints that are machine poured - and why they are not the cheapest due to the labour intensive production method. Daniel Smith pans are, however, the finest quality and offer a pure form of pigment plus reliability and predictability in use. 
Some Daniel Smith watercolour colours that are usually only available in 15ml tubes have been made into half pans allowing you to try the colours, some of which are high series numbers and usually more expensive, at a lower cost.
The ultimate mixing set was devised as a useful, versatile range of paints to include in a watercolour palette.
Whether the aim is to paint botanicals, landscapes, urban scenes,animals, portraits or any other subject, this set of fifteen colours will enable you to mix all the colours that you need. The 15 colours used in this palette showcase the many characteristics of watercolour. Some are transparent, some opaque, some semi-transparent, some staining and some are granulating. Some have 2 or even 3 of these characteristics. These are largely single pigment colours which are carefully chosen to mix creating a world of colours. Importantly they are reliable and predictable pigments with a light fast rating of I or II for watercolour.
Hand crafted
Proudly made in Seattle
Professional artists' quality
re-wets quickly and easily
Daniel Smith uses the exact same formula for both tube and hand poured pan colours
Portable and easy to use. Perfect for travel, plein air. urban, sketching and exploring unique colour combinations.
This set contains:
Janes grey
Raw umber
Indian red
Burnt sienna
Goethite (brown ochre)
Pthalo green blue shade
Pthalo blue green shade
Cerulean blue chromium
Ultramarine blue
Quinacridone rose
Permanent alizarin crimson
Pyrrol scarlet
Quinacridone gold
Hansa yellow medium
Buff titanium
2 x travel cases holding 15 half pan holders each 
All colours are made with the highest pigment load possible, hand poured and dried to specific water retention levels.
You may notice that some colours may have pulled slightly away from the side or corners or may have a roundness to them - this is normal for Daniel Smith hand poured half pans.
Please be assured that every Daniel Smith watercolour half pan has undergone multiple rigorous quality control inspections and only passes if it meets strict standards for both volume and density regardless of its final shape.
No customer reviews for the moment.