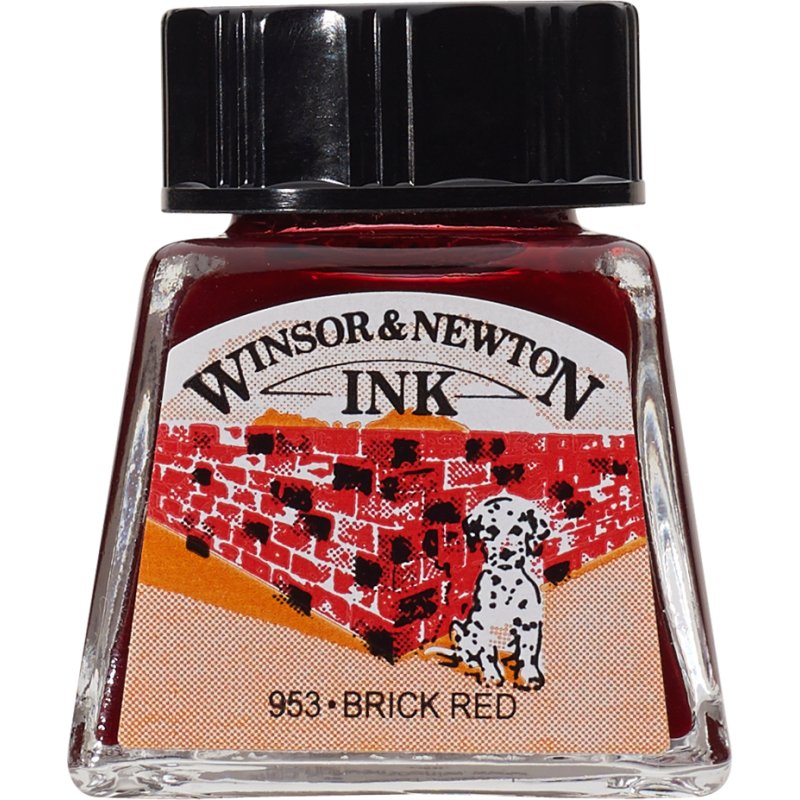  
Winsor and Newton Drawing ink 14ml
Formulated from a series of soluble dyes in a superior shellac solution.  These inks can be applied with brush,  dip pen or airbrush and are widely used by designers, calligraphers and artists as well as illustrators.
Colour Range
The range comprises 24 colours including Liquid Indian Ink, a water based solution of traditional chinese stick ink. This is the standard lettering ink used by calligraphers (which is not water resistant).
The full range of 24 Drawing Ink colours are available in 14ml bottles, each with their own uniquely designed box.  Blacks, Gold and Silver are available in 30ml bottles.  Black Indian Ink (the 'spider' design) is available in 30ml with a dropper lid.
With over 170 years of colour making expertise Winsor and Newton offer a range of inks with superior strength and brilliance of colour.
Infinite Optical Colour Mixes
Fast drying, water resistent & transparent, this allows the overlaying of different colours for attractive optical colour mixtures.  All the colours are water resistant except Liquid Indian Ink, Gold and Silver.
Fully Intermixable
All the colours are intermixable. Gold and Silver should be added to other inks in small quantities to avoid thickening. Mixtures of Gold and Silver together should not be stored due to adverse chemical reaction.
Easily Diluted
The colours can be easily diluted with water to reduce the strength of the colour or to increase its transparency. Distilled water must be used as tap water causes the dye to separate from the binder.
Permanence
As Drawing Inks contain dyes, they do not possess the lightfast properties of pigmented colours and should not be used in work which is intended for display in lighted areas.  This does not apply to Blacks and White which are pigmented and Gold and Silver which are metal based.  Although metallic colours are lightfast they may show tarnishing in the long term. 
Pens for Drawing Inks
Drawing Inks can be used with dip pens for writing but are not recommended for airbrushing or fountain pens as the binder clogs the nozzle or nib respectively.
Brushes for use with Drawing Inks
There are a multitude of brushes on the market, and choosing the right one can be daunting. All water colour brushes can be used with Inks 
These brushes are recommended due to their good colour carrying capacity, ability to point, spring back into shape and reasonable price. Care should be taken to rinse the brushes in water whilst working to prevent the ink from drying hard into the hair.
In such cases, methylated spirits can be used to dissolve the colour, followed by thorough washing with soap and warm water.
Surfaces for Drawing Inks
Paper or Illustration board is the most commonly used surface for Drawing Inks. As a general rule, the paper surface needs to be smooth to allow the pen to move over it quickly.  Smooth drawing papers or hot pressed water colour papers are ideal. Hot pressed water colour paper provides a smooth surface which prevents cockling. 
A soft paper or a rougher surface may have a tendency to fluff causing the nib or tip of the pen to catch, especially when a quick stroke is made. A paper both internally and externally surface-sized is also recommended as this will help to prevent bleeding and add to colour brilliance.
Drawing inks are also used on acetate films for overlaying by designers. Due to the many types available, acetates should be tested first to ensure the ink will be accepted.
Other Surfaces for Drawing Inks
Next to paper, schoellershammer illustration board is the most commonly used support by designers' using Drawing Inks. Drawing Inks are also used on acetate films for overlaying by designers.  Due to the many types available, acetates should be tested first to ensure the ink with be accepted.
Colors
Click on a color to view available combinations
check_circle

Apple Green 011

check_circle

Black (Indian Ink) 030

check_circle

Blue 032

check_circle

Brick Red 040

check_circle

Brilliant Green 046

check_circle

Burnt Sienna 074

check_circle

Canary Yellow 123

check_circle

Carmine 127

check_circle

Cobalt 176

check_circle

Crimson 203

check_circle

Deep Red 227

check_circle

Emerald 235

check_circle

Gold 283

check_circle

Nut Brown 441

check_circle

Orange 449

check_circle

Peat Brown 469

check_circle

Purple 542

check_circle

Scarlet 601

check_circle

Silver 617

check_circle

Sunshine Yell 633

check_circle

Ultramarine 660

check_circle

Vermilion 680

check_circle

Violet 688

check_circle

Viridian 692

check_circle

White 702

check_circle

Liquid Indian 754
No customer reviews for the moment.
Customers who bought this product also bought: