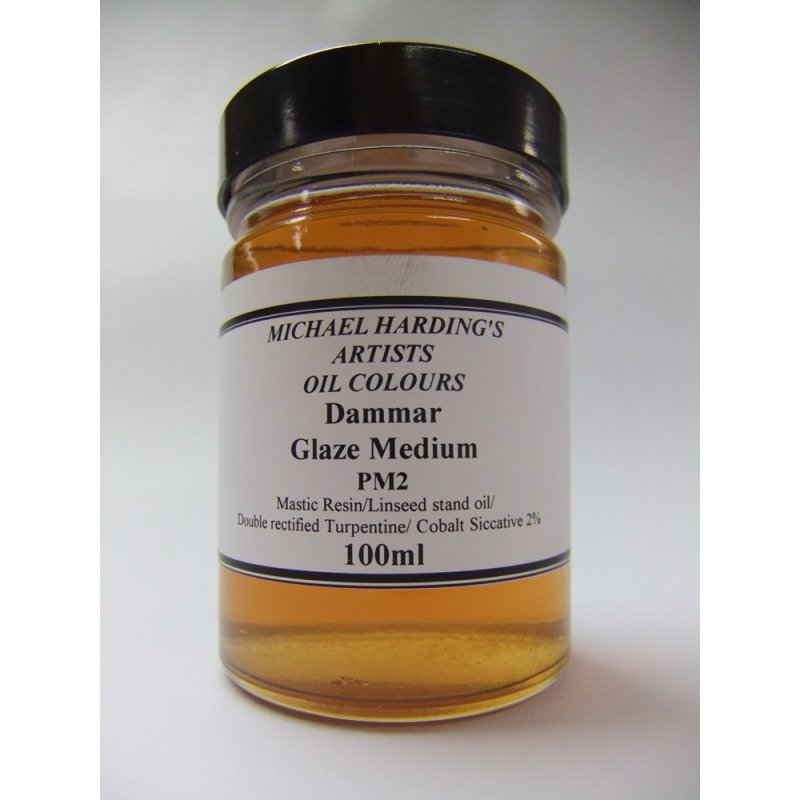  
Dammar Glaze Medium - 100ml - PM2
A Traditional glaze medium, creates depth and gloss to transparent colours. Speeds the drying time of oil colours; use with slower-drying colours. A mixture of mastic resin, linseed stand oil, double rectified turpentine and Cobalt Siccative 2%. 
HISTORY AND USE
Through the Renaissance, artists worked with combinations of tree resins, thickened vegetable oils, waxes and balsams. The exact organisation of these raw materials is open to speculation and may differ from one artist to another, and even within the practice of an individual artist.
However, the basic desire to create an oil paint film with a degree of gloss and depth seems to be a constant.
When oil colour is simply diluted with turpentine, it loses some of its body and also appears to become slightly matt upon drying.
If a small addition of paint medium is incorporated into the paint layer, and then it is diluted, the paint film retains more of its original gloss and lustre. This simple step helps avoid a reliance upon varnishing: in essence, the varnish constituent is then built into the paint film itself.
The antique formulations of these kinds of painting mediums often involved the presence of sun-thickened linseed oil, well-known for its self-levelling properties, excellent gloss and drying capabilities. This viscous oil would invariably be blended with natural tree resins, such as Mastic, from the Greek island of Chios. This combination may also have been treated with lead-based siccative to speed up drying times. To this formulation, an addition of tree balsam may also have been included, to impart yet more gloss to the paint medium.
Contemporary thought about the use of paint mediums errs somewhat on the side of caution.
Rather than using toxic and unpredictable lead drying agents, we have prepared a selection of oil-resin-balsam-wax blends, which avoid any driers (with the exception of Dammar Glaze Medium). In place of sun-thickened linseed oil, we use best grade viscous linseed stand oil (a partially polymerised linseed oil, which is fat in consistency but which self levels perfectly and imparts elasticity into oil paint films and does not yellow/darken appreciably over time).
Otherwise, the raw materials used here are consistent with those of the past. As an alternative to mastic resin (in use for over 800 years) we make use of best quality Indonesian dammar resin (used in paint mediums since late 18C) dissolved into the best grade double rectified turpentine. In our opinion, this is the best and only solvent for use in oil paint technique: it evaporates slowly and evenly and has a delicate flowery odour.
Larch turpentine from the Austrian Tyrol is the best grade tree balsam for use in paint mediums: the balsam is collected by drilling into the core of the tree, to obtain a form of resin-sap which is highly resistant to darkening when incorporated into paint films.
Our unique Oleo Resin Glaze Medium makes use of very pale, highly elastic Canada balsam. This high grade oleo-resin imparts excellent depth and lustre to oil paint films and possesses exceptional clarity.
To create matt or satin-matt paint films, high grade pure bleached beeswax can be fused with tree resins and oils. This makes paint mediums which allow the possibility of mild impasto within the paint film. Although beeswax is the most flexible of all natural waxes, it works best on flexible (i.e. canvas) supports, when fused with oil or resin-oil combinations.
The paint mediums are prepared without drying agents, to compliment the working properties of our oil colours, which are also prepared without use of drying agents. By adding only 10-20% paint medium to oil colour, one can tweak the sheen of the paint film and help avoid loss of gloss within the paint film.
In this kind of ratio the normal drying rate of individual colours is preserved.
If quicker-drying is required, we have prepared one medium (Dammar Glaze Medium) which can be introduced to speed the curing rate of the paint film, again when added in the ratio of 10-20% to oil colour. One can also mix this medium 50:50 with all the other mediums to help speed drying times. Remember that over-use of drying agents could cause problems over time in the dried paint film.
Final varnishes are best applied to thoroughly dried oil paint films. For example, a thinly painted picture may take 6-12 months to "cure" enough to be varnished. Remember that any varnish application will close the paint film, thereby stopping the paint layers from drying if not already dried out. Our Mastic Varnish is clearer than Dammar Varnish and it can also be thinned with turpentine to create a super-fine varnish layer. Varnish is best applied in dry conditions (avoid damp/humid atmospheres, which may cause "blooming" or clouding in the varnish film upon drying).
No customer reviews for the moment.
Customers who bought this product also bought: