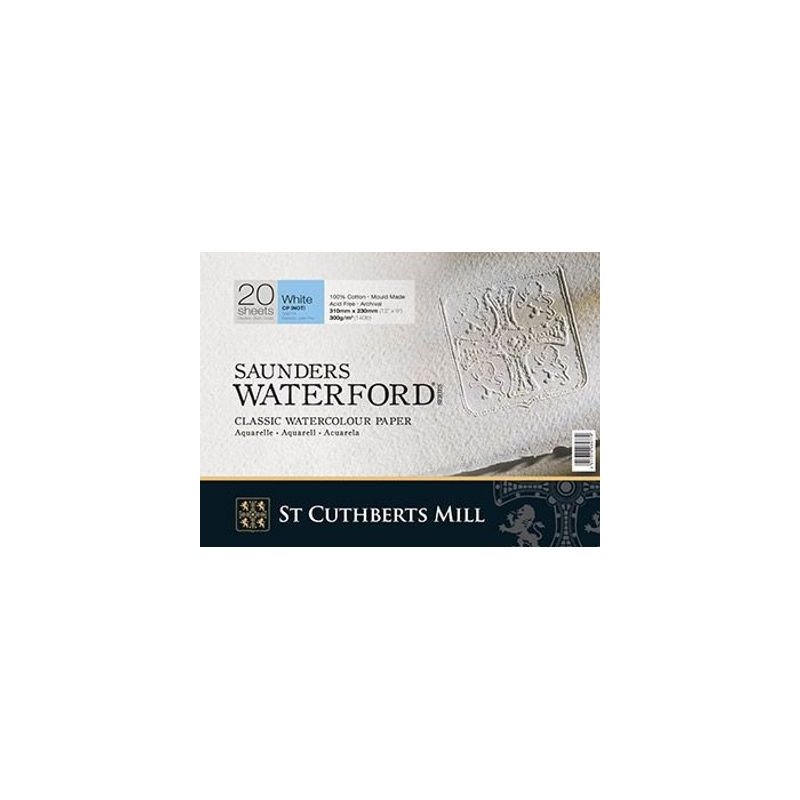  
Saunders Waterford Block Cold Pressed
Superior Quality 100% Cotton.
Treated with calcium carbonate to preserve colour over time.
Unique texture perfect for watercolour.
High White - Acid Free.
Hot pressed - ideal for illustrations.
Security policy
Delivery policy
Return policy
Saunders Waterford is an exquisite English watercolour paper, traditionally made on a cylinder mould machine. This is the superior quality paper made at St Cuthberts Mill and comes with the Royal Watercolour Society's endorsement. Made using 100% cotton, the highest quality papermaking material, to archival standards. Each sheet is buffered with calcium carbonate to help defend finished pieces of work from discolouration caused by acids present in pollution. The Saunders paper has a creamy white colour and its attractive surface is created using natural woollen felts that give a distinctive random texture. The surface is coated in gelatine making it strong and resilient to scrubbing and other rough treatments without the surface tearing. Why use a block? Glued on all four sides, the paper remains stretched and cockle (buckle) free. Especially useful for painting on location. 100% Cotton Highest quality papermaking material with excellent archival properties Mould Made Superior surface stability Acid Free & Archival The paper will last for hundreds of years (in good storage conditions) and won't discolour or fall apart. Deckle Edges The 4 deckle edges are visually very beautiful, and are perfect for float framing. Gelatine Surface Sized Makes the sheet very strong and assists with flow of wash from brush to paper. It is resistant to scrubbing and other extreme treatments like masking fluid removal. Beautiful Random Surface Texture Surface enhances the finished painting Watermarked and Embossed For authenticity Endorsed by the Royal Watercolour Society Recommended by this highly prestigious group of watercolorists. Blocks of Watercolour Paper No need to soak and stretch the sheet as the paper dries flat. Excellent for painting on location. Suitable for Multimedia In addition to watercolour, this paper is suitable for pastel, gouache, acrylic, pencil, charcoal, pen & ink and printmaking.
No customer reviews for the moment.