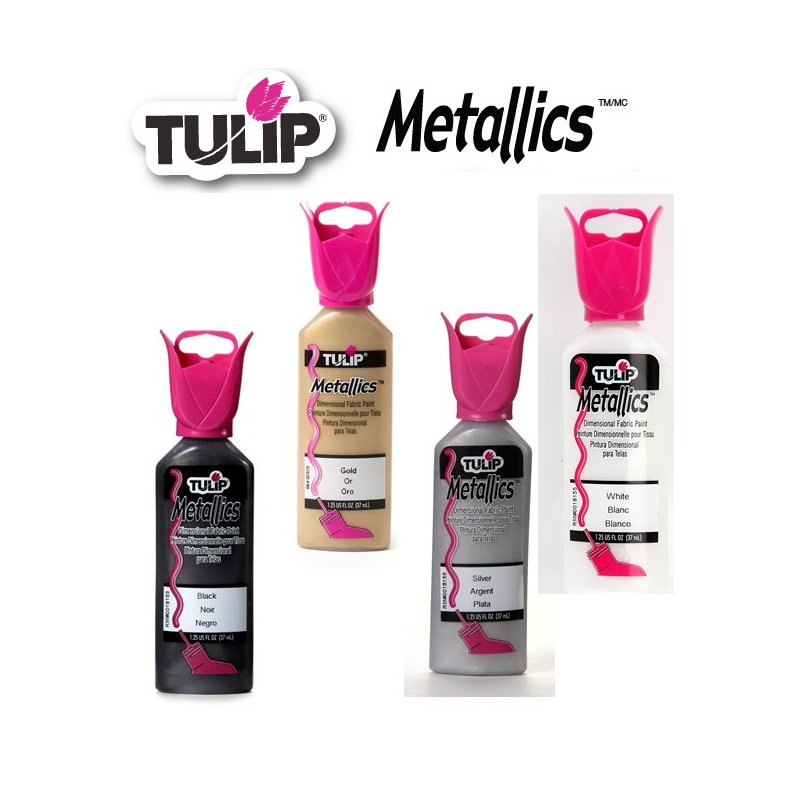  
Tulip Metallic 3D Fabric Paint
Easy to use, with 86 great colors, and easy to find, TULIP paints continue to be popular because of their high quality, strong adhesion and durability on wood, glass, fabric, ceramics and more. Paint remains dimensional once dry.
Nontoxic, permanent paint formulated for a lasting adhesion to fabric even throughout multiple washings
Each finish has a different size tip specifically designed to apply that finish in the best way possible
For over a decade, Tulip® 3D Fashion Paints for crafts and fabrics have been the paints of choice for crafters of all skill levels. A brand to trust, TULIP paints have brought more joy to crafters over the years than any other craft paint on the market. Today, crafters still turn to TULIP for inspiration through their favorite techniques, while discovering the ease and beauty of exciting new dimensional painting with TULIP paints.
The unique capstand allows paint to be stored upside-down, minimizing air bubbles and improving flow. All 37ml bottles come in the EasyFlow bottle, designed to reduce hand fatigue and improve accuracy and precision.
Available in a wide range of finishes, including Matte for a soft subtle sheen, Slick for a shiny, high gloss, Pearl for a shimmery finish, Glitter for dazzle, Glow for glow in the dark, Crystals for vibrant sparkles and Puffy for an ultra-dimensional look with a soft, puffy finish (a quick heat creates the super dimension and puff!), Metallics for the most opaque look with a glint.
No customer reviews for the moment.
Customers who bought this product also bought: