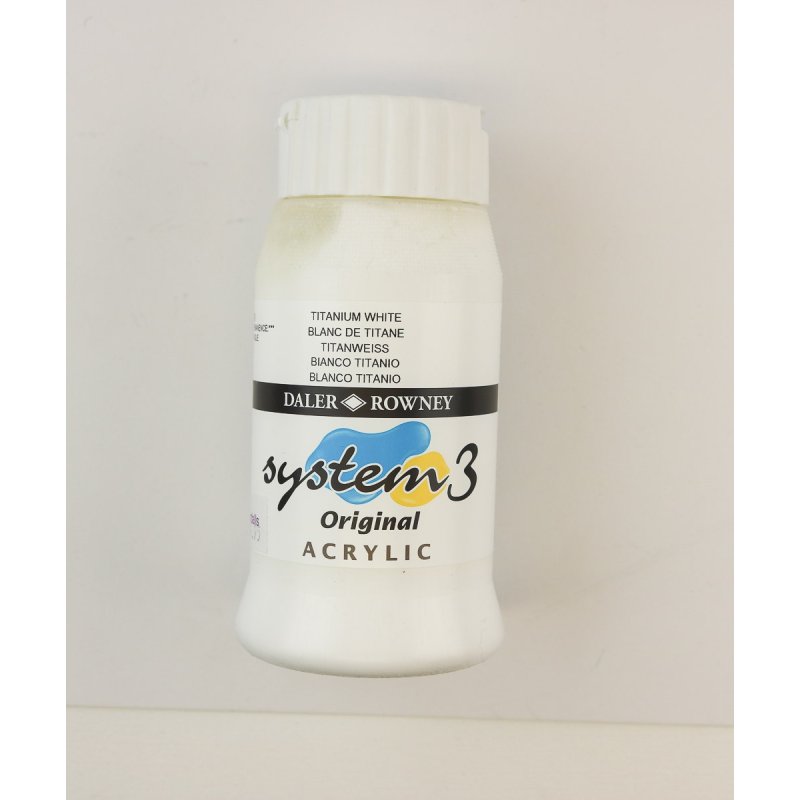  
Daler System 3 Acrylic Original 500ml
With its medium body consistency, System 3 Original is designed to offer a perfect compromise between firmer, more controlled applications of colour and the swift and even coverage of large areas. NB colours marked with an * may have to be ordered in as we keep limited stocks
Uses of System3 acrylic colours
Since the introduction of System 3 acrylics in 1987, these colours have been successfully used to decorate paper, wood, canvases and uneven surfaces such as rough plaster or masonry. Tests on concrete slabs demonstrate the superior durability of System 3 over other acrylic colours in all weather conditions. System 3 has been used extensively for painting murals on school walls and, with the use of suitable primers, can be used even more widely on materials such as metals and plastics.
Tips to maximise the permanence of a painting and special effects using System 3 acrylic colours:
• Acrylic colours take well to all semi-porous surfaces such as paper and board, but more absorbent surfaces, such as cloth, plaster or wood, require a primer to seal the surface for maximum durability.
• Although System 3 will not adhere permanently to smooth surfaces such as laminated plastics, metal, glass or glazed ceramics, adhesion can be improved by abrading, etching or roughing surfaces or first applying a suitable primer, such as those used for priming car bodywork.
• A different degree of adhesion is required for painted plastic items used outdoors (e.g. skateboards) than for a plastic model shown in a display cabinet.
• For very rough or absorbent surfaces such as masonry or brickwork, first remove any loose dust or debris. As an initial coat, apply thinned Gesso Primer (five parts of primer to one of water). The surface should then be further primed with Gesso Primer before painting with System 3 colours.
• For painting on plaster or plasterboard, ensure that the surfaces are free from dust, debris, oil or grease and then coat them with System 3 Gesso Primer. For murals or other large areas, the first coat of Gesso Primer should be thinned five parts to one of water. Undiluted coats of Gesso Primer should then be applied.
• Raw, unprepared canvas will not readily accept System 3 or any acrylic colours. The gaps between the warp and the weft must first be filled to create an even but toothed painting surface. Canvas should be tightly stretched onto stretchers prior to application of Gesso Primer. The primer may be brushed, sprayed or rolled onto the painting surface.
• Most papers will take System 3 colours without priming.
• If painting on rough rag or 100% cotton watercolour papers the surface should first be prepared with an acrylic solution, to avoid a dulling of the colours. Thin Daler-Rowney Decoupage Medium with water and apply over the surface of the paper. Allow it to dry fully and then use System 3 colours.
• For fabric painting, all fabrics should be washed prior to painting or printing. Mix System 3 Textile Printing Medium in roughly equal quantities with colour to give strong colours with fine definition and wash fastness over twenty or more washes. After printing, garments should be heat-fixed with an iron at a temperature appropriate to each fabric; the lower the temperature used, the longer it will take to 'fix' the colour.
• For texture effects, apply System 3 Heavy Body colours straight from the tube using a knife or a brush for clean, crisp effects. Use a cranked blade knife to keep your hands off the surface.
• To load a palette knife with System 3 Heavy Body colours, first mix the colour needed, then load the head of the knife on only one edge in order to build a roll of colour. Use this to create edges and ridges, then wipe off any excess colour and reload the knife.
• Limited only by your imagination, mix System 3 Original or Heavy Body colours with quartz, sand, pumice stone or other materials for outstanding colouring power with coarse grainy effects.
• For external murals and in cold studios, to ensure that a strong flexible film is formed, all colours and primers need some form of warmth while they are being used and drying; so make sure that the artwork has time to dry before it becomes too cold.
• For different brush marks try different-sized brushes with System 3 Heavy Body colours, and create effects by dabbing, twisting or stroking with the brush.
No customer reviews for the moment.
Customers who bought this product also bought: